Altes Park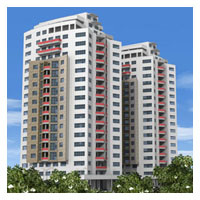 Altes Park is a Premium class project that has 44 benefits of Altes Group company. The unique design and the facade covering made from ceramic granite is a great advantage of this building, whereas the panoramic glass paintings create the feeling of space, bring comfort to your rooms and provide a great city view.
The control of Altes Plaza from the side of SGS is held in five key-spheres architecture, structure, mechanics, electrical engineering and fire security. The usage of the most secure materials such a high-qualitative armature A500C class, concrete that meets modern standards make Altes Plaza a earthquake-proof building which means a secure one.
An ecologically clean region situated in a few minutes from the city centre is another advantage of Altes Park. Quite often it is the location that defines our mood, health and success. Enjoy a nice evening in a park covered with lush greenery. Light wind and a palpitation of leaves would help you to relax and have rest after a difficult working day. When sitting on the garden benches among the flower beds and reading your favorite book you can watch with smile how your child is having fun with his friends at the playground.
Well-developed infrastructure of Altes Park would help you not to lose time on shopping; you can also take up your favorite sport without leaving your house. A covered swimming-pool and a spacious gym are always at your disposal.
One more important amenity of the house is the underground car-parking. Moreover there is a guest parking for your friends. Video control system would make possible for you to see your car, hall, playground, where your children may play, at any moment you like.
An affable porter will always meet you in the hall and show the way to your guests. However if required they can always wait for a meeting in an elegantly designed furnished entrance hall.
We do our utmost to make your life in our houses joyful. High ceilings of your company create the feeling of easiness and big space; German double-glazed windows keep silence not allowing the street noise to disturb you.
Modern life is difficult to be imagined without qualitative communication. High-speed Internet, digital voice communication, as well as personal automatic telephone station would provide you with fast and qualitative connection.
The security of the buildings is one of the highest priorities of our clients. We have supplied Altes Park with a modern centralized fire protection system, whereas the supply and water purification systems meet the highest international standards.
Altes Park is a perfect combination of three important factors: price, quality, location.

4 important benefits of Altes Park
The unique design and the façade covering made from the ceramic granite help Altes Park to stand in other buildings and point out its status.
Elegantly covered with the ceramic granite lifts Mitsubishi with the speed 1.75 m/sec would take you to the required floor quickly and comfortably.
Central heating system meeting International standards would create comfort and cosiness in your flat and the central system of water filtering would make your life healthy and secure.
The complete control over the projecting quality is held by the Swiss company SGS that is an international leader in the sphere of inspection, testing and certification.
44 Features ALTES PARK
Ecologically clean district
Closeness to downtown
Easy access way
Courtyard
Magnificent view to the city
Proximity to green square
English garden
Illumination of the territory
Flowerbeds, comfortable garden benches
Granite fountain
Children playground
24 hours security
Unique design of the building
Panoramic vitrage
Elite trimming of the building
Entrance door intercom
In-door ASC with internal numbers
Video surveillance system: lobby, elevators, children garden, parking and other places
Elegant furnished lobby
Doorkeeper
Spacious, high-speed elevators Mitsubishi (1.75 m/s)
Underground parking
Guest parking
Car washCommercial infrastructure
Laundry/dry cleaners
GymIndoor poolMaintenance service
Regulations of habitation in the Altes Group luxury buildings
Owners & guests WC
Floor drains on balcony
German double – glazed window
High ceiling 3.40 – 3.45
Seismic resistance
Lightning protector
A 500 C class armature
Host – based fire safety system
Сentral system of heating
Standby generator system
The central water filtration systems operate to international standards
Cable and space television
High – speed internetPrice – quality – place